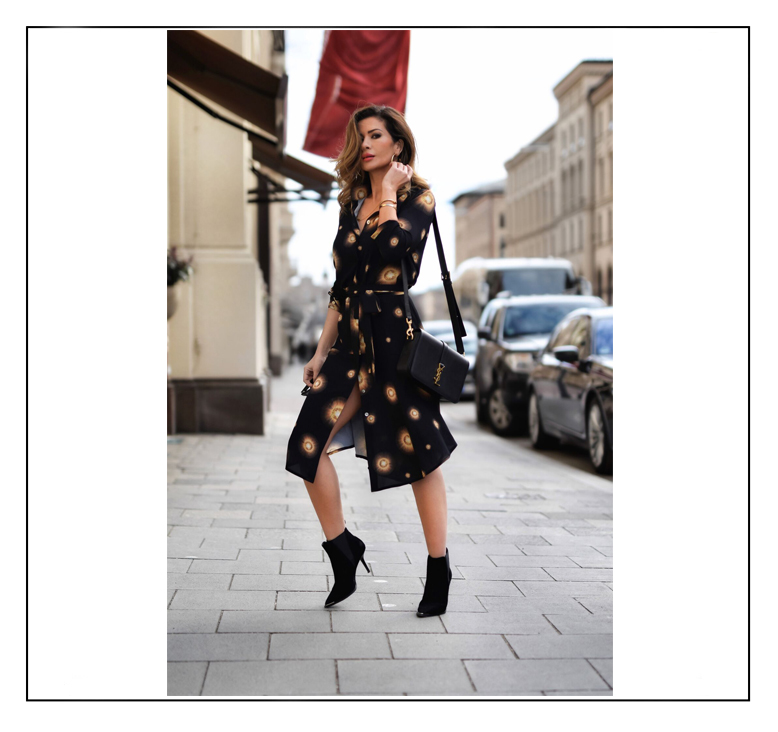 Füsun Lindner
Dress: Mybestfriends
Boots: Acne Studios
Bag: Saint Laurent
Bize biraz kendinden bahseder misin? Blogger olmaya nasil karar verdin?
Moda Editorlugu yaptigim eski isime donmek, hamilelik iznimden sonra benim icin artik mumkun degildi. Ancak hala sevdigim bir isi yapmak ve kendi isimin patron olmak istiyordum. Bunun uzerine blogum uzerine yogunlastim ve farkettim ki bloggerlik eski isime cok benziyor. Ustelik bu kez, kendi sesimi duyurabilecegim, daha da onemlisi bana kiminle calisacagimi secebilme ozgurlugu veren, kendime ait bir platforma sahiptim.
Yani bloggerlik senin icin bir hobi degil ve baska bir isle ilgilenmiyorsun, dogru mu?
Ben tam zamanli bir bloggerim ve bunu isim olarak goruyorum. Bloggerlik cok tatmin edici ve eglenceli bir is! Bu nedenle sik sik hobi gibi hissettirdigi de oluyor  – fazlasiyla zaman alan bir hobi –  ☺
Bir moda bloggeri olarak gelecegin icin neler planliyorsun?
Hayal ettigim bir cok sey var! Stille ilgili hikayeler anlatan bir kitap yazmak veya kendi moda koleksiyonumu yaratmak gibi.. Gelecekle ilgili hedeflerim olsa da, suan spontane kalip karsima cikan firsatlari degerlendirmeyi tercih ediyorum, ve bunlari yaparken iyi vakit gecirmeye calisiyorum.
Moda alini nasil tanimlarsin?
Elegan ancak yeni deneyimlere acik derdim! Bana gore moda bir yolculuk ancak still surekli gelisen kalici bir surec. Daha cok ruh halimi anlatmakla, kendimi bulmak – hatta bazen kaybetmekle – ilgili, ve aslinda modanin en sevdigim yonu de bu!
Bize seni cok mutlu ve enerjik bir insan olarak goruyoruz. Peki sen karakterini nasil tanimlarsin? Bir de gunluk hayatinda da bu kadar feminen bir kadin misin? ☺
Evet, cogu zaman mutlu bir insanim. Tabi ki inislerim cikislarim var, ama iyi seylere odaklanmayi ogrendim diyebilirim. Kendimi caliskan, iletisime acik ve cok – ama cok – kaotik biri olarak tanimliyorum.
Gunluk hayatimda bu kadar feminen miyim? Sanirim bu temelde icten gelen birsey, ama kadinsiligimi stilim ve makyajimla one cikarmayi seviyorum. Ancak pijamalarimla cocuklarimin pesinde kosarken kadinsi gorundugum konusunda suphelerim var. ☺
Sosyal Medyada diger moda bloggerlariyla harika iliskilerin oldugunu goruyoruz, ve iletisim becerilerini gercekten takdir ediyoruz! Bu iliskileri kurmayi nasil basardin?
Diger bloggerlarla iliski kurmak konusunda hic bir zaman stratejik planlar yapmadim, bu kendiliginden olan birsey. Bloggerlarla iliski kurmayi cok ilham verici buluyorum, ve Instagramdan tanistigim insanlarla gercek hayatta bulusmayi cok seviyorum. Disarda bir suru guzel ruh var!
'En ilham verici bloggerlar' listende kim var, ve neden?
Sizin ve blogunuz Moda Tutkusunun kesinlikle 'en iyi bloggerlar' listemde oldugu zaten bir sir degil! Zamansiz stilinizi her zaman en ozgun ve zarif sekilde sergiliyorsunuz.
Samar Buttafaco (@ulap), ozgur ruhunun yaninda yazdigi eglenceli ve samimi yazilarindan dolayi diger bir favorim. Ve bir de, bana en iyi bloggerlik ipuclarini veren, fresh looklarina, durustlugu ve kibarligina bayildigim sevgili @miss_gunner var.
Peki favori tasarim markalarin?
Ayakkabida Gianvito Rossi, Christian Labuoutin ve Celine; Cantada Gucci ve Fendi, en iyi 'ifade parcalari' icin Vivetta ve Parosh ve zamansiz elegan elbiseler icin Victoria Beckham. Ancak favorim kesinlikle kalabalikta siyrilmayi basaran yeni tasarimcilari kesfetmek!
Neredeyse her gun, senin disinda bir hesap tarafindan Instagram'da fotograflarin paylasiliyor. Arkanda bir ekip mi var yoksa tek basina kahraman bir moda bloggeri misin? ☺
Ilham sayfalari tarafindan fotograflarimin yayinlanmasi harika ve her biri icin minnettarim. Bu zamana kadar bu tek bir kadinin show'uydu, ancak yakinda bir kucuk bir yardimci takim kuracagim.
Bize Sokak Stili fotograflarinda nasil guzel gorunulecegine iliskin bir ipucu verseydin bu ne olurdu?
Durust olmak gerekirse, en iyi fotograflarim poz vermeye cok fazla caba ve zaman harcamadigimda, baski hissetmedigimde ve dogal bir sekilde gerceklestiginde ortaya cikiyor. Bir de tabi ki en sabirli fotografciya sahibim, esime ☺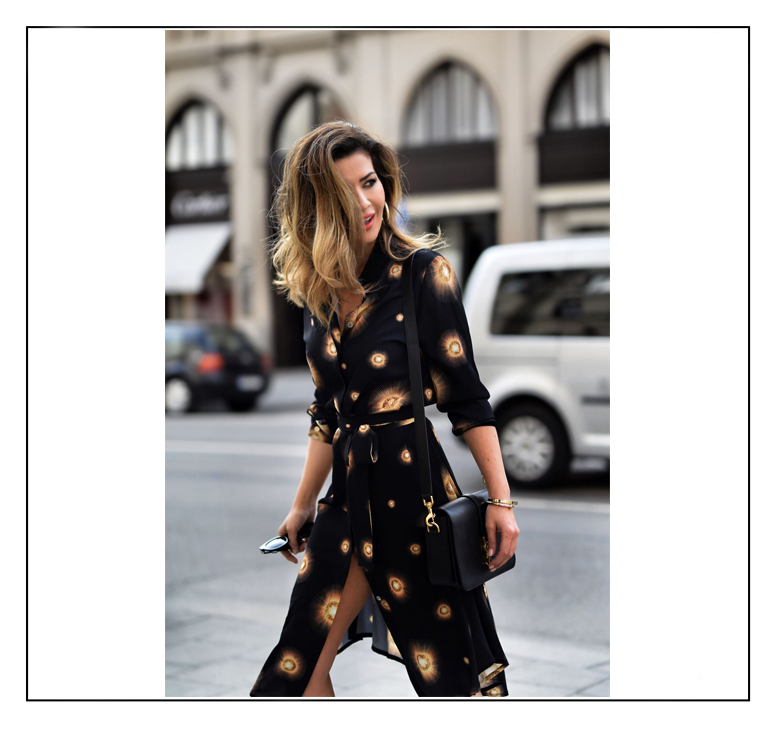 Can you tell us a bit about yourself? How did you decide to be a blogger?
Returning to my old job as a Fashion Editor after my maternal leave was not an option for me – but I still
wanted to do something I love and continue to be my own boss. So I carefully worked myself round
blogging – I noticed it's very similar to my former profession, only this time I had my own voice, my very
own platform, and more importantly the freedom of choice regarding the people I work and surround
myself with. 
Is blogging a hobby for you? Do you have any additional job or occupation?
I'm a full-time blogger and I consider it my work, but it's also so fulfilling and fun – that it often feels like a hobby – a very time-consuming one 😉
What do you plan for your future as a fashion blogger?
There are so many things I can imagine: may be writing a book that tells style related stories or create
my own fashion collection. I do have goals for the future but I prefer to stay spontaneous and take
chances as they come – all I wish for is having a good time whilst doing so.
How would you describe your fashion sense?
I'd say it's elegant yet open for experiments. To me Fashion is a journey and Style a permanent progress. It's about expressing my moods, finding and sometimes even losing myself – and that's actually my favorite part!
We would say that you are a happy and energetic person. How do you describe your personality? Are you really this feminine as a woman in your daily life?
Yes, most of the time I am a happy person. Of course I have my ups and downs, but I have learned to focus on the good things. I'd describe myself as hard-working, communicative and very very chaotic. Am I this feminine in my daily life? I suppose that's something that mainly comes from within but I love to enhance my femininity with my styles and make-up. Although I doubt that I look very lady-like when in my sweatpants chasing my kids around!
We see that you have great relationships with all Fashion Bloggers on social media, and we truly admire your communication skills! How did you manage to built those relationships?
I never strategically planned building relationships with other bloggers, it just kind of happened.
I find the exchange with co-bloggers very inspiring and I love meeting my Insta-contacts in real
life. There are so many good souls out there!
Who are on your 'most influential bloggers' list, and why?
It's no secret that you girls @Modatutkusu are definitely on my top-list of bloggers. Your styles are timeless, wearable and you always present them with authenticity and ultimate grace. Samar Buttafaco @ULAP is another favorite of mine because she's a free spirit and writes enjoyable articles with substance. And there is lovely @miss_gunner whom I adore for her fresh looks, honesty and kindness – she gave me the best blogging-tips.
What are your favorite designer brands?
Gianvito Rossi, Christian Louboutin and Céline for shoes; Gucci and Fendi for bags, Vivetta and Parosh for statement pieces and Victoria Beckham for timelessly elegant dresses…but my absolute favorite is to discover emerging designers who manage to stand out from the crowd.
Everyday, there is a big chance to see one of your pictures shared by another account then yours on Instagram! Do you have a team behind or are you a fashion blogging hero by yourself? ☺
Being reposted by Inspo-pages is great and I'm grateful for every single one. Until now it's been a one-woman-show but I'm about to start building up a little team of helpers.
If you would give us a clue on how look good in Street Style pictures, what would it be?
To be honest my best shots happen when I don't put too much time and effort in to posing, when it all happens naturally and with no pressure. And I have the most patient photographer of all, my husband 😉