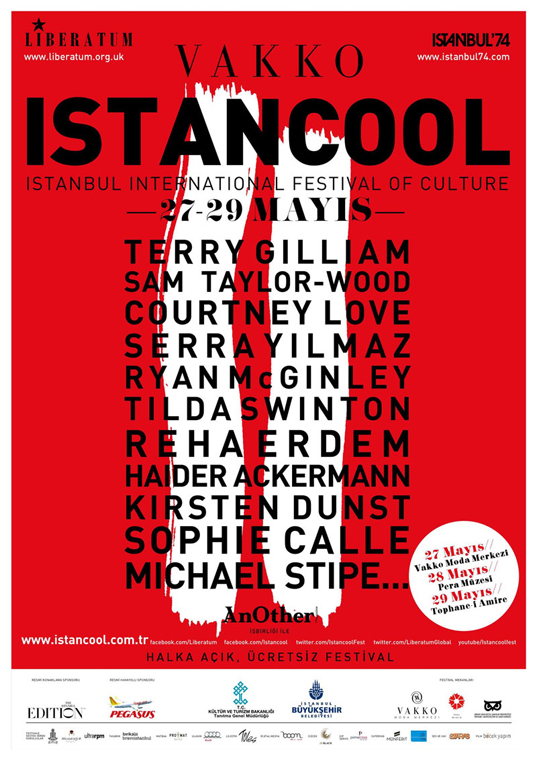 Haftasonu programınız belli oldu!
Sanat, tasarım, moda, edebiyat, film, müzik ve fikir alanında etkili bir festival olmayı hedefleyen ISTANCOOL 2011 için, bir önceki yılın başarılarından yola çıkılarak, İstanbul'un ufku açık bir dünya şehri profilini destekler nitelikte, geniş bir yelpazeye yayılan ve iddialı içeriğe sahip, 3 günlük bir kültürel buluşma programı oluşturuldu.
Festival, heyecan verici ve orijinal içeriği ile İstanbul'u 2011 yılında da uluslararası kültür haritasının merkezinde konumlayacak.
Bu yıl ikincisi düzenlenecek ISTANCOOL Festivali'nin uluslararası katılımcıları arasında: Oscar'lı yönetmen Milos Forman, son olarak İtalyan yönetmen Luca Guadagnin'in "I Am Love" adlı filminde baş rol oynayan, Oscar'lı oyuncu Tilda Swinton, R.E.M grubunun solisti Michael Stipe, Spider-Man 1-2-3, Eternal Sunshine of the Spotless Mind ve Sofia Coppola'nın yönettiği Marie Antoinette filmlerindeki rolleri ile tanınan Kirsten Dunst, bir Joy Division biyografisi olan "Control" adlı filmdeki rolünün yanı sıra, Mr. Lonely ve The Messenger gibi filmlerdeki oyunculuğu ile de çok konuşulan Samantha Morton, İngiliz yönetmen, fotoğrafçı ve kavramsal sanatçı Sam Taylor-Wood ve şarkıcı Courtney Love gibi isimler bulunuyor.
Program:
Friday 27 May 2011
Vakko Moda Merkezi
12:30pm Festival Opening and Welcome
1pm – Conversations with the Maestro
Terry Gilliam discusses his filmmaking
adventures with Alphan Eseli
2pm Cinema in the Age of Marketing
Marco Mueller, Kirsten Dunst and Nurgul Yesilcay
What does Contemporary Cinema Tell Us About The World Today
3pm Fables of Turkey
Murat Daltaban and Hakan Gunday
The Impact of Turkish Literature on Theatre
3pm Haider Ackermann Workshop
4pm Q&A – Tilda Swinton with Serra Yilmaz
5pm Io Sono L'Amore – Film Screening
Pera Museum
5pm Talented Mr. Ripley – Film Screening
7pm The Adventures of Baron Munchausen – Film Screening
Saturday 28 May 2011
Pera Museum
1pm The New Audi A6 presents 'Collapse into Now' film project
Michael Stipe, Sophie Calle, Sam Taylor-Wood. Chaired by Jefferson Hack
A series of short films made by artists including Sam Taylor-Wood and Sophie Calle to accompany each of the songs on R.E.M's most recent album
2pm Culture of The Young
Dan Colen and Ryan McGinley
Street Art and Its Effect on Counter Culture
3pm The English Director
Sam Taylor-Wood presents 'The English Patient'. Directed by Anthony Minghella
Sunday 29 May 2011
Tophane-i Amire Culture and Arts Centre
1pm Sophie's World
A Talk with Sophie Calle
2pm Love and Revolt
Reha Erdem with Firat Yucel
The Cinema of Reha Erdem
3pm Artists Vs Brands
Courtney Love
The Artist as A Brand
4pm Voices of Hope
Amnesty International – Readings
5pm Murathan Mungan interviewed by Mumammer Brav
Pera Museum
2pm Q&A – Terry Gilliam
2pm Thomas Dozol Workshop
2.30pm The Imaginarium of Dr. Parnassus – Film Screening
5pm 12 Monkeys – Film Screening
Sevgilerle,
Yasemin KILIÇ